Per una volta, un post in inglese.
While my following is mostly comprised of Italians and some Argentines, for once I will be writing a post in English for a very noble cause: help a friend's book 'The Last British President' find its deserved fame.
Marc Thomas, a fellow expat and friend of mine originally from Hereford, England, has been in Argentina for more than a decade. Living as a British citizen in Argentina bears its challenges and a unique point of view on the quite peculiar relationship between Argentina and the United Kingdom.
While Argentina welcomed immigrants from many countries, after the failed attempt to take back the Falkland Islands during the military dictatorship in the 70-80's, the relationship between the UK and Argentina worsened and brought back long forgotten issues that seemed relegated to the colonial era.
Most recent readers of this blog will remembers two posts of mine about this: Falkland or Malvinas? and Il circo.
For those who would like a history lesson, long story short: British interests in Argentina date back to the early 19th century, when they made a couple of serious attempts to conquer Argentina back in 1806 and 1807, but they always succumbed to the Spaniards. Nonetheless, many British citizens settled in Argentina and we can see proof of their presence to this day. In Argentina we have to thank the British for the construction of the railway system, which is why we have trains running according to the British driving system (left-hand driving), as well as lovely train stations in Zona Norte in perfect British style and English-named towns in Buenos Aires City and its surroundings (Coghlan, Wilde, Temperely, Banfield etc…), not to mention English houses and landmarks showcasing British architecture.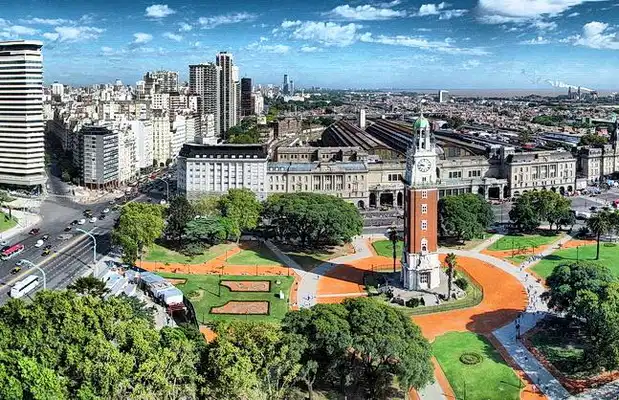 Those of you living or about to visit Argentina, should pay a visit to the museum dedicated to these events in Tigre: Museo de la Reconquista.
These failed attempts to militarily conquer Argentina were followed by commercial attempts to monopolize the local resources, and many British immigrants to Argentina have had quite successful businesses thanks to a country rich in resources. However, the locals had defeated the British, and despite the large influence and waves of Italian, Polish, German immigrants, Argentina is a unique blend, but predominantly Spanish country.
Every political and economical piece written on Argentina never fails to mention that 'one century ago, Argentina was among the top 6 richest nations in the world' and they wonder why it has fallen so badly, trying to reconstruct the events that led to the current states of affair: over 50% inflation, huge debt, one third of population living in poverty, unpredictable economy and populism possibly about to make a comeback in the upcoming elections in October 2019.
Past or future, nowadays you can still hear people wondering about what would have come of Argentina had the British succeeded in their conquering attempts — would Argentina be the Australia of South America?
Would we be rich and prosper and live 'happily ever after?
Argentina is in crisis and only one man can save the country. But Robert Crawford doesn't know his life was mapped out years before he was born. In London, Admiral Jack Forsyth believes his plan is fool proof. But a very determined woman could decide Robert's fate. Will his true identity be revealed? And who will betray him? one person holds the key to the last British president.
Let Marc Thomas take you on a fantasy journey in 2019. Let's peruse together this idea of having the UK 'come to Argentina's rescue'.
Would it be feasible? What would it look like? If you're familiar with Argentina's history and have asked yourself these questions, you cannot miss 'The Last British President' by Marc Thomas, freely inspired by real politicians of modern-day Argentina. The book is available as a paperback and Kindle on several online outlets, including Amazon and Apple Books. The paperback version can be ordered on amazon.com, too. You really have no excuse to miss this book!
Official website: The Last British President